Maritime Square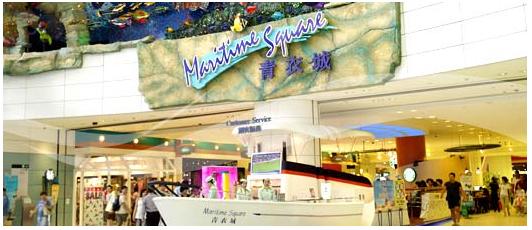 Unprecedented Enjoyment with Endless Creativity
Maritime
Square is the first shopping mall in Hong Kong adopting ocean and
navigation as the design theme. Occupying a total of 500,000 square
feet, the mall houses a superior range of shops and restaurants.
An Ocean that brings you boundless fun
With its unique ocean theme, a sea of colorful flagstaff characterizes
the mall and displays a flair for trends and dynamics. With over
hundred of shops and restaurants, Maritime Square serves all you need
by offering a dynamic and energetic one-stop shopping experience.
Tasty cuisine that satisfies your demanding stomach
Maritime Square provides an array of restaurants serving quality
Cantonese, Japanese, Thai, Italian and cuisine etc. The numerous
choices of restaurants makes you never want to stop trying those
delicious foods!
Still
looking for something special? "Submarine Wine and Dine" would be your
choice. With its panoramic view of Rambler Channel and Superb Italian
stone-roasted cooking, just sit back and relax. You'll probably forget
you're in the middle of a city!
Location

Right at MTR Tsing Yi Station
Transport and Map
Maritime
Square is located at the interchange station of both Airport Express
Line and MTR Tung Chung Line. It is not only just one station away from
the Hong Kong Airport but also adjacent to the hottest tourist spots
including Hong Kong Disneyland, The Inspiration Lake Recreation Centre,
Po Lin Monastery (The Giant Buddha), Tsing Ma Bridge as well as the
newly opened AsiaWorld-Expo.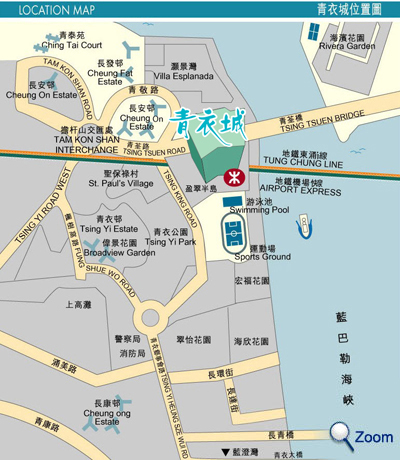 Hompage
All the above informations copy from the Homepage of Maritime Square.
If you would like to get more informations, please go to their website.
Link:
http://www.maritimesquare.com/eng/intro.html