Hong Kong Planning and Infrastructure Exhibition Gallery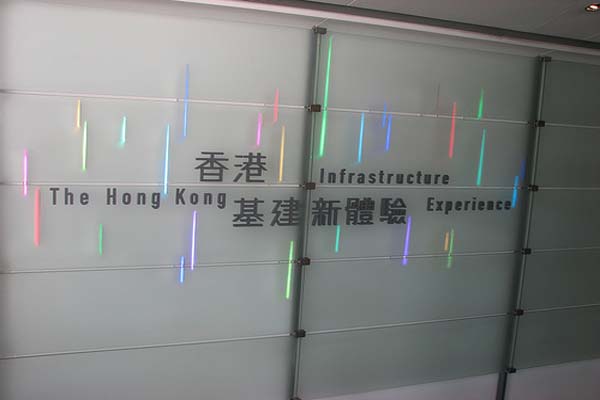 Introduction
The Hong Kong Planning and Infrastructure Exhibition Gallery showcases Hong Kong's major planning and infrastructure projects. The four main parts of the Gallery cover the topics of Town Planning, Tourism, Transport and Logistics, and Environmental Protection.
With the help of the Gallery's three-dimensional models, computer graphics and various interactive games, you can fly through new towns, stroll along heritage trails, wander through the Hong Kong Wetland Park at Tin Shui Wai, gaze at bridges and other infrastructure projects and have your photo taken at Hong Kong's popular scenic spots.
Visitors can walk through the 18.5 metre-long physical model of the central part of Hong Kong to enjoy a series of audio-video presentations that highlight the upcoming major planning and infrastructure projects.
Facilities and Exhibits
1. Greeting Hall
2. Statement Wall
3. Videos
4. Panorama
5. District Models
6. Bridge Models
7. Flying over New Towns
8. Tourist Kaleidoscope
9. Heritage Walk
10. Hong Kong - a Multi-modal Transport Hub
11. Web Cam
12. Water & Sludge
13. Infrastructure Walk
General Information
Address
G/F., 3 Edinburgh Place, Central, Hong Kong
Transportation
Central MTR Station Exit K (Make 180o turn upon leaving exit, walk ahead through pedestrian tunnel to Edinburgh Place, turn right, Gallery is beside City Hall)
Enquires
Tel:
3102 1242
Fax:
3104 0129
E-mail Address:
piegal@pland.gov.hk
Location Map
Floor Plan
Opening Hours
10:00 - 18:00 daily
Gallery closed on Tuesdays (except Public Holidays) and the first two days of the Chinese New Year
Free Admission Offical Website
www.infrastructuregallery.gov.hk