Hong Kong Museum of Medical Science
Introduction
The Hong Kong Museum of Medical Sciences, established in 1996, is an unique institution charting the historical development of medical sciences in Hong Kong. The Museum occupies 10,000 square feet, comprising 11 Exhibition Galleries, 1 Gallery for Tai Ping Shan View, 1 Library and 1 Lecture Room, each presents in a variety of ways to arouse interests and to help members of the community know more about health and diseases, including past conquests, current developments and future challenge of special relevance to Hong Kong. It also explores the interface between Chinese and Western medicine and encourage research in this area. It intends to serve both as an educational venue and to restore and conserve medical objects of historical value. As such, it is the first of its kind amongst medical museums in the world!
The Building
The building is a British architectural design, drawing references from the Edwardian period, and representing Hong Kong architecture in the first decade of the century. It was transformed to suit tropical conditions, with expansive balconies and well-placed windows to encourage cross-ventilation. The use of Chinese roof tiles is probably due to the sensitivity to the local materials and deference to the local culture. It is interesting to imagine that in order to encourage the creativity of the exploring pathologists, the architect's impulse allowed a folly of obelisks to sprout forth from the top of the building corners in stoic formation.
General Information
Address
No.2 Caine Lane, Mid-Levels, Hong Kong
Enquires
Tel:
(852) 2549 5123
Fax:
(852) 2559 9458
E-mail:
info@hkmms.org.hk
Transportation
Route 1: By "Central - Mid-Levels Escalators"
Use the "Central - Mid-Levels Escalators" (after 10:30am) from Central to Caine Road, and walk westwards for around 10 minutes till you reach Ladder Street. Descend Ladder Street and turn left after the first flight of steps into Caine Lane. The Museum is down Caine Lane, on your right. [Dynamic Route (Central Market - Museum)]
Route 2: By bus or minibus
From Central to Caine Road (west bound)
Buses: 3B, 12, 12M, 13, 23, 23A, 23B, 40, 40M and 103
Green Minibuses: 8, 10, 10A, 11, 22, 28 and 31
From Pok Fu Lam to Caine Road (east bound)
Buses: 40M and 103
Green Minibuses: 8, 10, 10A, 11, 22, 28 and 31
Route 3: By walking from Sheung Wan MTR station
Take A2 exit from MTR and walk up the slope to Mid-Levels. The shortest route will take around 15 minutes. [Dynamic Route (Sheung Wan MTR station - Museum)]
Location Map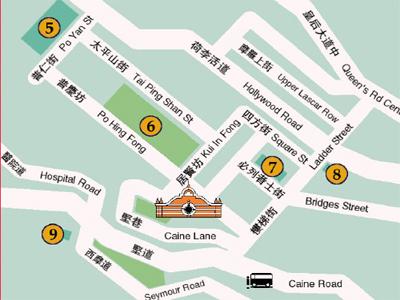 Floor Plan
Ground Floor
[
First Floor
Basement Floor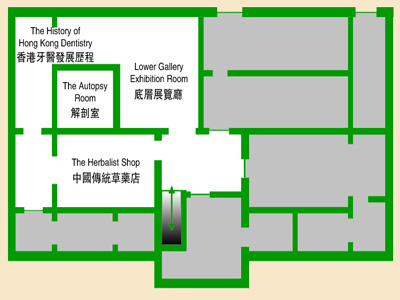 Opening Hours
Tuesday to Saturday: 10:00a.m - 5:00p.m
Sunday and Public Holidays: 1:00p.m. - 5:00p.m.
Monday: closed
* Closed on Christmas Day, New Year's Day and the first three days of the Lunar New Year.
;Lunar New Year's Eve and Christmas Eve 10:00am to 3:00pm.
Admission Fee
HK$10.00 for Adults
HK$5.00 for Full-time students, persons aged 60 or above, and persons with disability.
Offical Website
http://www.hkmms.org.hk/English/main.htm