Island Shangri-La Hotel
The award-winning Island Shangri-La is located in the heart of the city's Central district. Our signature tower, a gleaming architectural jewel containing 771 chandeliers, rises directly above Pacific Place, Hong Kong Island's most prestigious shopping and entertainment complex.
The hotel's luxury rooms and suites are among the largest in Hong Kong, and feature breathtaking views of the city and world-famous Victoria Harbour. With several acclaimed restaurants, including Restaurant Petrus, which offers some of the city's finest grand cuisine, our guests enjoy exquisite dining.
The Island Shangri-La is also home to a number of unique features, as well as exclusive firsts for any hotel. The world's largest Chinese silk painting, The Great Motherland of China, spans 16 storeys in our atrium.
The hotel houses its own fleet of limosine with a Rolls-Royce Phantom, Streched Mercedes Benz, Luxury seven-seater van and Mercedes Benz S Class.
Address
Pacific Place, Supreme Court Road, Central, Hong Kong
Enquires
Tel: (852) 2877 3838
Fax: (852) 2521 8742
E-mail:
isl@shangri-la.com
Star
5 stars
Transportation and Map
Airport Connections
A counter at the airport of the Shangri-La Hotels and Resorts Airport Counter in the Main Arrivals Hall, Counter B11, opposite Exit B.
Arranging a car service to or from the airport, simply provide your flight name, flight number and estimated time of arrival when booking online, or contact the hotel directly by telephone.
The hotel staff are recognisable in their red uniforms and will greet you upon arrival. Travelling time to the hotel is 30 minutes.
Via the Airport Express train departs from the Main Arrivals Hall every 10 minutes to the Hong Kong Station in Central. The one-way trip, which takes approximately 25 minutes, costs HKD100.
Via taxi service is readily available at the airport. A one-way journey, which takes approximately 30 minutes, will cost approximately HKD450. Charges for extra luggage and a toll fee are applicable.
Via airport buses depart every hour for the half-hour journey and stop at several hotels in Central. You may purchase tickets (HKD150 per person) at our Airport Counter.
Public Transit
Trams
You may hop aboard a tram along Queensway, in front of the Pacific Place Mall at the foot of the hotel.
MTR
The hotel is located a short walk away from the Admiralty MTR Station. A complimentary shuttle to the station is also available.
Star Ferry
There is one just about every five minutes, operating from early in the morning until 11pm and covering three routes: one between Tsim Sha Tsui and Central, one between Tsim Sha Tsui and Wan Chai, and one between Hung Hom and Wan Chai. The cost is HKD 2.20.
The Star Ferry terminal in Central is approximately a 20 minute walk from the hotel.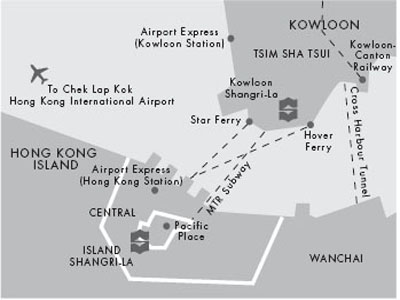 Rooms and Suites
Hotel consists 531 spacious and luxurious guest rooms and 34 expansive suites. Exquisitely appointed with Asian-accented European furnishings, all rooms and suites command magnificent views of the city, the Peak or Victoria Harbour.
Services and Facilities
- 24-hour Room Service
- Airport Transfer
- Baby Sitting / Child Care
- Business Centre
- Butler Service in Suites
- Complimentary Shoeshine Service
- Express Check-in and Check-out
- Pastry Shop
- Photo Processing Service
- Postal / Courier Service
- Shopping Arcade
Website
http://www.shangri-la.com/en/property/hongkong/islandshangrila