Dr Sun Yat-sen Museum
Introduction
Dr Sun Yat-sen was a world-renowned revolutionary who devoted his entire life to overthrowing the Qing Dynasty and setting up the Republic of China. His achievements were recognised and admired not only by the local and overseas Chinese, but also by the global community.
Dr Sun Yat-sen Museum has two permanent exhibitions displaying a number of precious historical artefacts. Supplemented by a wide range of audiovisual programmes, the Museum gives a comprehensive overview of the life and career of Dr Sun, and Hong Kong's vital role in the reform movements and revolutionary activities in the late 19th and early 20th centuries.
Architectural features
Built in 1914, the Dr Sun Yat-sen Museum is located in the Kom Tong Hall. Being a typical Edwardian Classical building, this four-storey building has the facade surrounded by the Greek-style granite columns. Inside the premises are preserved the stained-glass windows, balcony wall tiles and staircase railings in good condition. The Kom Tong Hall is among the best-preserved buildings dating back to the early 20th century Hong Kong.
Bronze statue of Dr Sun Yat-sen
In his youth, Dr Sun Yat-sen received his secondary and university education in Hong Kong. He even stated that his revolutionary thoughts were nurtured in Hong Kong. This is why the Museum depicts the bronze statue of Dr Sun as a young man full of ambition and vitality during his student days.
Facilities
The four-storey Dr Sun Yat-sen Museum occupies a total floor area of about 2,560 square metres. Apart from the permanent and special exhibition galleries, there are reading room, video rooms, interactive room and activity room. The various facilities have been specially designed to strike a balance between the convenience of the public and the preservation of the historic structure.
General Information
Address
7 Castle Road, Central District, Hong Kong
Enquiries
Tel:
(852) 2367 6373
Fax:
(852) 3580 0498
Group booking:
(852) 3580 6780
Email:
sysm@lcsd.gov.hk
Transportation
Visitors can use the Mid-Levels Escalator from Central to Caine Road, and walk westwards along the pavement for around 5 minutes.
From Central / Wan Chai to Caine Road: Alight at the vicinity of the Hong Kong Baptist Church at Caine Road (i.e. the stop following the one at the Caritas Centre) and walk westwards along the pavement for around 2 minutes.
Buses: 3B, 12, 12M, 13, 23, 23A, 23B, 40, 40M and 103
Green Minibuses: 8, 10, 10A, 11, 22, 28 and 31
From Pok Fu Lam to Caine Road: Alight at the vicinity of Albron Court at Caine Road, walk eastwards along the pavement for around 2 minutes, and then cross the road.
Buses: 40M and 103
Green Minibuses: 8, 10, 10A, 11, 22, 28 and 31
Location Map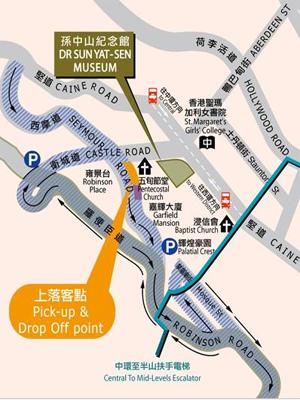 Floor Plan
Lower Ground Floor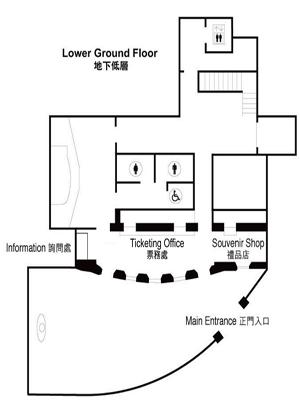 Upper Ground Floor
First Floor
Second Floor
Opening Hours
Monday to Wednesday and Friday to Saturday: 10:00 am to 6:00 pm
Sunday and Public Holidays: 10:00 am to 7:00 pm
Closed at 5:00 pm on Christmas Eve and Lunar New Year's Eve
Closed on Thursday (except Public Holidays) and on the first two days of Lunar New Year
Admission
Standard ticket: HK$10
Concession ticket: HK$5 (for people with disabilities, full-time students and senior citizens aged 60 or above)
Group ticket: HK$7 (20 persons or above)
Museum Pass / Museum Monthly Pass / Weekly Pass holders: Free admission
Free admission on Wednesday, the anniversaries of Dr Sun's birth (12 November) and death (12 March)
Offical Website
http://hk.drsunyatsen.museum