Hong Kong Space Museum
Introduction
Located at the seaside of Tsim Sha Tsui, the Hong Kong Space Museum commenced its construction in 1977 and was commissioned in October 1980. It is the first local planetarium for the popularisation of astronomy and space science. The unique egg-shaped dome renders the 8000-square-metre museum to be one of the most famous landmarks in Hong Kong.
The Museum comprises two wings - east and west. The former, the planetarium's nucleus, has an egg-shaped dome structure. Beneath it are the Stanley Ho Space Theatre, the Hall of Space Science, workshops and offices. The west wing houses the Hall of Astronomy, the Lecture Hall, the Gift Shop and offices.
Inside the Stanley Ho Space Theatre, there is a hemispherical projection dome with a diameter of 23 metres. Boasting the first OMNIMAX film projector in the eastern hemisphere, the Museum is also the first planetarium in the world to possess a fully automatic control system at its Stanley Ho Space Theatre. Each year, the Museum produces two multi-media planetarium shows and introduces the best foreign OMNIMAX films to Hong Kong.
The Museum has two thematic exhibition halls: the Hall of Space Science and the Hall of Astronomy on the ground and first floors respectively. The exhibits, predominately interactive, enable visitors to learn through a series of entertaining and educational experiences.
General InformationAddress
Hong Kong Space Museum, 10 Salisbury Road, Tsim Sha Tsui, Kowloon, Hong Kong.
Enquiries
Tel.:
(852) 2721 0226
Fax:
(852) 2311 5804
Transportation
1. MTR Tsim Sha Tsui station (Exit E), follow the signs and walk to the museum.
2. Take the Star Ferry from Central or Wanchai to Tsim Sha Tsui, walk about 10 mins to the museum.
Location Map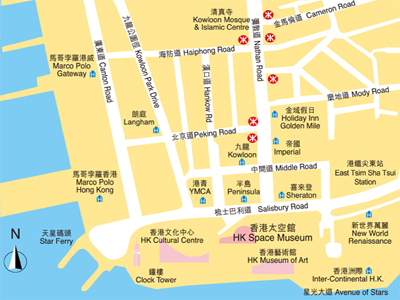 Opening Hours
Monday, Wednesday, Thursday and Friday : 1:00 pm - 9:00 pm
Saturday, Sunday and Public Holiday : 10:00 am - 9:00 pm
Closed at 5:00 pm on Christmas Eve and Lunar New Year's Eve
Closed on Tuesdays (Except Public Holiday) and the first two days of the Lunar New Year
Admission FeeOther Fees
Omnimax Show / Sky Show ( Seating Plan )
Standard: $ 24 ( Front Stalls), $ 32 (Stalls)
Concession: 1 $ 12 ( Front Stalls), $ 16 (Stalls)*
*Concession is applicable to full-time students, people with disability and senior citizens aged 60 or above
Children under 3 years old will not be admitted
School Show
Student: $ 16
Exhibition Halls
Standard: $ 10
Concession: $ 5
Weekly Pass: $30
Free Admission for children under 4 years old, but they must be accompanied by adults
Offical Website
http://www.lcsd.gov.hk/CE/Museum/Space/index.htm