DRAGON BOAT FESTIVAL
Luner Dates: Day 5, Fifth Moon
Western Dates: 8, Jun 2008
Dragon Boat Festival This Festival, also known as Tuen Ng Festival, commemorates the death of a popular Chinese national hero, Qu Yuan, who drowned himself in the Mi Lo River over 2,000 years ago to protest against the corrupt rulers. Legend says that as townspeople attempted to rescue him, they beat drums to scare fish away and threw dumplings into the sea to keep the fish from eating Qu Yuan's body.
Boats racing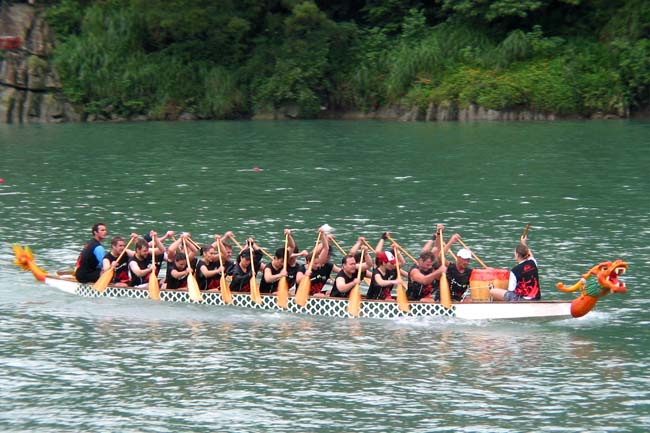 The real highlight of the festival is the fierce dragon boats racing in a lively, vibrant spectacle. Teams race the elaborately decorated dragon boats to the beat of heavy drums. The special boats, which measure more than 10 metres, have ornately carved and painted "dragon" heads and tails, and each carries a crew of 20-22 paddlers.
Participants train in earnest for the competition. Sitting two abreast, with a steersman at the back and a drummer at the front, the paddlers race to reach the finishing line, urged on by the pounding drums and the roar of the crowds.
Today, festival activities recall this legendary event. People eat rice-and-meat dumplings wrapped in bamboo leaves; and many look forward to swimming or even simply dipping their hands in the water.
Catch all the fun and excitement of the Dragon Boat Festival by joining a tour and get a front row seat to enjoy all the fast-paced action.