Jordan Valley Swimming Pool
Description
Situated in Choi Ha Road, Jordan Valley Swimming Pool provides various facilities including Training pool, Fun pool and Leisure pool. There are slides and buoys of shapes of funny animals in the Fun Pool and Leisure Pool, which is definitely a good place to go in hot summer days.
Address
Choi Ha Road, Ngau Tau Kok, Kowloon
Enquiries
Tel: 2305 5919 / 2797 3177
Transportation
Take Kowloon Bay MTR station Exit A, then cross the bridge and walk for 10-15 minutes.
Or take bus route No. 1A, 2A 3D, 6D, 11B, 11C, 11D, 13D, 13X, 14, 14B, 15, 16, 17, 28, 38, 40, 42C, 62X, 70X, 74A, 74X, 80, 80X, 83X, 89, 89D,89X, 93K,101,671
Map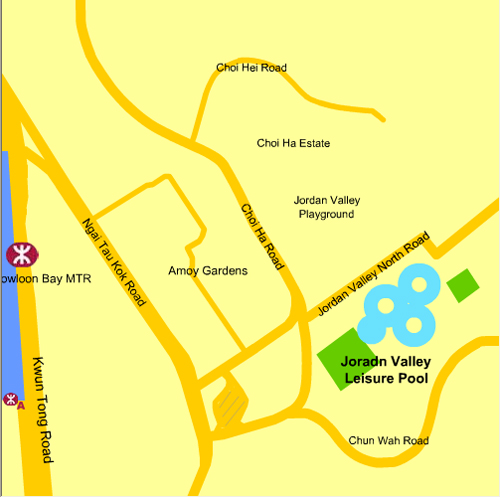 Opening Hours
Daily 6:30 am - 10:00 pm
(Session breaks : 12 nn - 1 pm & 6 pm - 7 pm )
Cleansing programme day: Tuesday
Admission
Normal rate:
$19 per person (Persons other than those specified below)
Concessionary rate:
$9 per person [Children (below 14), Senior Citizens (60 and over), People with a Disability Minder of People with a Disability (on one-to-one basis), Full-time students]
Free:
Toddlers (below 3)