L'hotel Nina Et Convention Centre
Hong Kong, the Pearl of the Orient, has been shining for decades. L'hotel Nina et Convention Centre, a spectacular landmark hotel, is ready to participate together with the best of the best in the phenomenal of growth and prosperity.
Friendly and attentive service throughout will enhance your experience of being in a landmark hotel.
International Buffet Breakfast, Lunch and Dinner is served in The Circles on the 9th Floor Podium, adjacent to the 50 meter long swimming pool and the Indoor heated pool.
Fine Dinning Chinese Restaurant on the 7th floor offers Cantonese style delicate mouth watering dishes.
Warm, soothing comfortable Lobby Lounge keeps you relaxed and pumped with energy for business and leisure rendezvous.
Address
8 Yeung Uk Road, Tsuen Wan, Hong Kong
Enquires
Tel: (852) 2280 2898
Fax: (852) 2280 2822
Email:
info@lhotelhk.com
Star
5-stars
Transportation and Map
By Airport Express
After reaching Tsing Yi, reach hotel by taking taxi only 30 minutes
By MTR
West Rail Tsuen Wan West Station and walk only 5 minutes
By Public Bus
No. 278X from Tsuen Wan to Sheung Shui
No. 33A from Tsuen Wan to Mong Kok
No. 40 from Tsuen Wan to Laguna City
No. 51 from Tsuen Wan to Kam Tin
No. 53 from Tsuen Wan to Yuen Long(East)
No. 73X from Tsuen Wan to Fu Shin Estate
No. 251M from Tsing Yi to Kam Sheung Road West Rail Station
No. 263M from Tsing Yi to Fu Tai Estate
No. 41M from Tsuen Wan to Tsing Yi
No. 42M from Discovery Park to Cheung Wang
No. 49X from Tsing Yi to Kwong Yuen
No. R42 from Tai Wai to Disneyland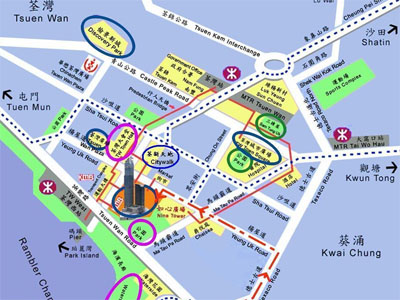 Rooms and Suites
L'hotel Nina et Convention Centre, with its twin towers, provides more than 1589 contemporary hotel rooms of different type to suite for all travelers. The all-inclusive choices range from rooms to suites of 28-47 m2, standard to executive, and sea view to mountain and city view according to their own preference. Rooms specially designed for the disabled and rooms with balcony are also up to your choice. Over half of the rooms amaze you with marvelous sea view over Rambler Channel, some even reaching further to the famous Ting Kau Bridge and Tsing Yi Island. Other rooms feature bustling city view combined with rolling hills which would feed up the appetite of travelers.
Services and Facilities
- Business Centre
- Secretarial services
- Swimming Pools
- Fitness Center
- Spa
- 24 hours doctor on call
- Shuttle Bus
- Baby sitter
Offical Website
http://www.lhotelhk.com/eng/index.php