Lamma Seaview Man Fung Seafood Restaurant
This would be one of the best known eating houses on Lamma, established over 30 years ago. Outdoor casual garden style dining on the waterfront is what one can expect here. One of the most popular seafood dishes in Hong Kong is Steamed Crabs with Chilli and Plum Sauce and is said to have originated from this restaurant. Other delicacies include Fried Lobster with Cheese and Butter and Fried Prawns in Garlic and Butter.
Address
G/F, 5 Yung Shue Wan Main Street, Lamma Island.
Enquires
Tel: (852) 2982 0719
Fax: (852) 2982 4371
Transportation and Map
By Ferry
Lamma Island Ferry Pier and walk about 8 minutes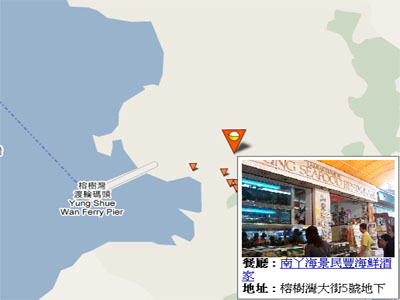 Cuisine
Cantonese
Dishes
Chinese Restaurant, Seafood
Opening Hour
11:00 - 22:00